Being a digital agency ourselves, we've seen the best, the worst, and everything in between when it comes to client-agency relationships. Many companies don't take the time to ask the right questions before looking for a digital agency - but you're smarter than that!
The truth is, with even the best intentions and a strong desire to hire an agency, it isn't always the right fit. Some organizations are simply not structured in a way that complements an agency relationship in terms of hierarchy or communication style. For example, if key decision makers are stuck in their ways or quick to dismiss new ideas, your organization may not work well with an agency. However, when a client-agency relationship is built on aligned goals and reinforced with trust and the ability to see eye to eye, the possibilities for value are endless. The best way to find out which camp your business is in is to do a little bit of homework.
Questions To Review Before Making Your Decision
The first step to achieving the perfect company-agency relationship is to take a step back and look internally at your organization. Think through the questions below to help determine if your company would work well with an agency.

Is Working With An Agency Right For Your Company?
Before seeking out an agency, take some time to discuss these five questions with your internal team.
What problems are you looking to solve? Be as specific as you can. Examples may include:
"We don't think we're doing well in search and want to see if we can do better."
"Our eCommerce sales are not where we think they should be."
"We are launching new products and don't know how to market them effectively."
"We have too much work and too few employees to get it done."
"We aren't happy with our current agency (or marketing partner) and are looking for better results."
Does your company have a clear definition of what success looks like?
If not, are you willing to let an outside resource define your key performance indicators?
Are you looking for an agency instead of continuing to manage your marketing internally?
If so, think about the division of responsibilities. To what extent do you want an agency to manage your marketing initiatives?
Do you have the infrastructure in place (systems, culture, admin, financial, operational, etc.) that will allow an agency to make positive changes to your company?
If not, are you willing to work for it?
Are you prepared to listen to recommendations and put them into practice?
Tip: If you answered "no," hiring a full-time employee or temporary contractor to do the work in-house might be a better fit for you.
There is no magic formula to determine if an agency is right for you, but a little bit of homework certainly helps. By taking the time to answer these questions with your team, you can be more prepared to talk to a prospective agency partner and feel confident in your decision. Bonus: it can even help you identify internal issues that should be addressed beforehand.
Do You Need Your Agency To Be A Strategic Partner?
Once you have determined working with an agency is the right approach for your digital marketing needs, the next step is to decide what type of agency you need. Not sure which type of agency is right for your company? Let's unpack the three main types of digital agencies: those that only focus on strategy, those that only implement the tactical work, and those that can do both.
Strategic Partner
This partner will:
Want a "seat at the table" during strategic planning sessions
Develop a strategic plan that ties your company objectives to tactics
Demonstrate a clear understanding of your brand and messaging, your customer's mindset, and your C-level thought process
Tactical Implementation Partner
This partner will:
Display a high degree of expertise and competency in one or two areas
Have various certifications that demonstrate their expertise
Engage other resources to complete tasks they do not specialize in
Both
This partner will:
Demonstrate the capabilities of both a strategic and tactical partner
Demonstrate competency in all areas of digital marketing
Assist in your digital marketing plan from start to finish
Provide multiple levels of experience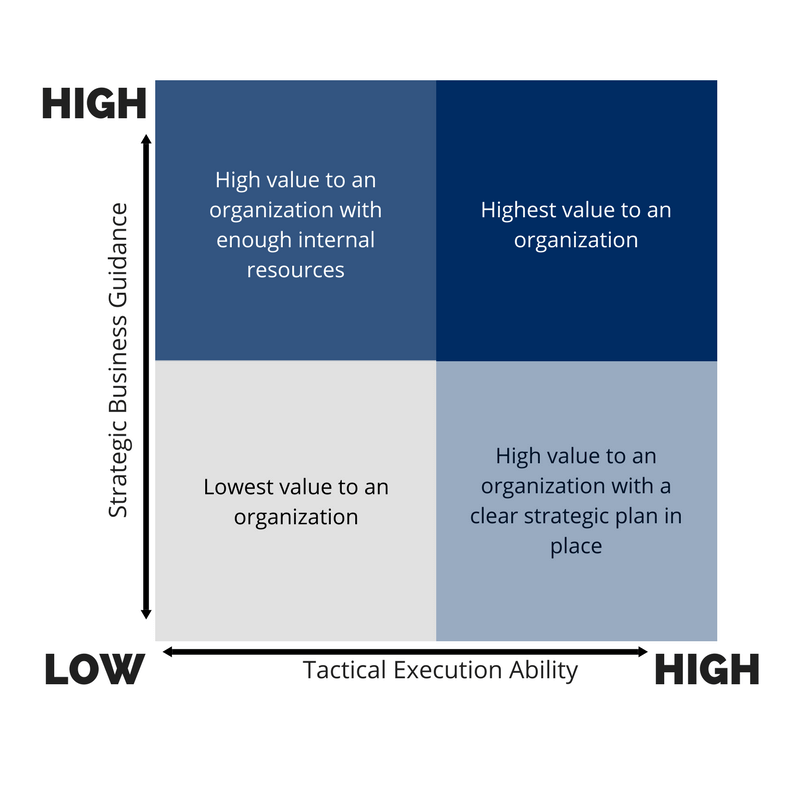 Does The Agency Have Experience Working Within Your Industry?
Niche, industry-specialized agencies do not exist in every industry, unfortunately. What is most important, though, is your agency's ability to adapt and learn your industry quickly. For example:
In B2B manufacturing, you need an agency that can understand the mindset of your buyer and the world they live in.
For a B2C multi-channel retailer, you need an agency that has experience in eCommerce marketing as well as an understanding of what drives brick and mortar sales.
Before you begin analyzing agencies, create a simple checklist to determine their level of experience in your industry. What critical aspects of your industry do they need to understand to work well with you?
Remember:
Think about the key factors that really matter to your company.
Keep it simple and limit your checklist to no more than ten items. Anything beyond that and you'll needlessly complicate it.
After you interview multiple agencies and lay these checklists down next to each other, it usually becomes obvious who stands out.
This checklist isn't the only criteria for selecting an agency, but it should carry some weight. If anything it could serve as a tie-breaker.
Keep in mind that not all of these items are must-haves, but some certainly are.
Example: B2B Manufacturing
Rate each agency's demonstrated level of competency and experience (high, medium, low) in the following circumstances related to B2B Manufacturing.
The below chart is an example of one that can be used when performing this exercise.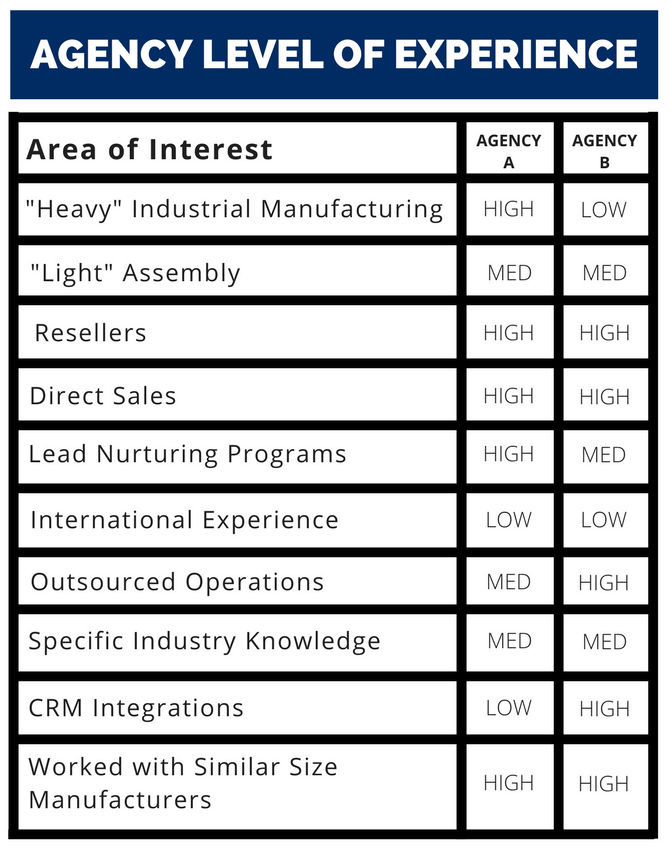 Do The Agency's Values Match Your Company Culture?
While it is one of the most important factors to consider, cultural alignment is trickier to measure. It's more of an art than a science and if you're doing it right, you'll know it when you see it.
Culture and values mean more than whether the agency has a game room or 'bring your dog to work' days. Those can be part of getting a feel for an agency partner, but there's more to it than just that. If you're looking for a partnership that will last, find an agency that is passionate about and true to their values and willing to commit to the culture you've created.
When looking at a potential agency, consider the following:
What is their work environment like?
Do they have a culture of accountability?
How does their overall approach to their craft mesh with yours?

For example, if you're in a highly regulated industry that limits how you can market, you may not want the agency that has clients with a reputation for push-the-envelope shock value (or vice versa).

Ask, "How did your culture get to be what it is today?" Find out their priorities and what they've learned along the way.
Do they have a full-time staff? Sub-contractors? Both?

There's nothing wrong with using sub-contractors. Actually, this often makes the most sense for an agency (highly trained specialist, not enough full-time work, etc.). Still, make sure you understand exactly who is going to be working on your account and why the agency feels the approach makes sense.
Did you make it through all four steps? You're ready to find an agency! Armed with the right tools and insights, you're well on your way to building a solid company-agency relationship.