Expand Your Brand's Digital Footprint to Reach Your Customers
In 2017, you can no longer afford to view digital as a standalone tactic. Rather, marketers are moving to business models with a sophisticated and integrated digital strategy where digital IS marketing. Brands large and small are increasing their knowledge and investment in digital endeavors with the hopes of gaining tangible results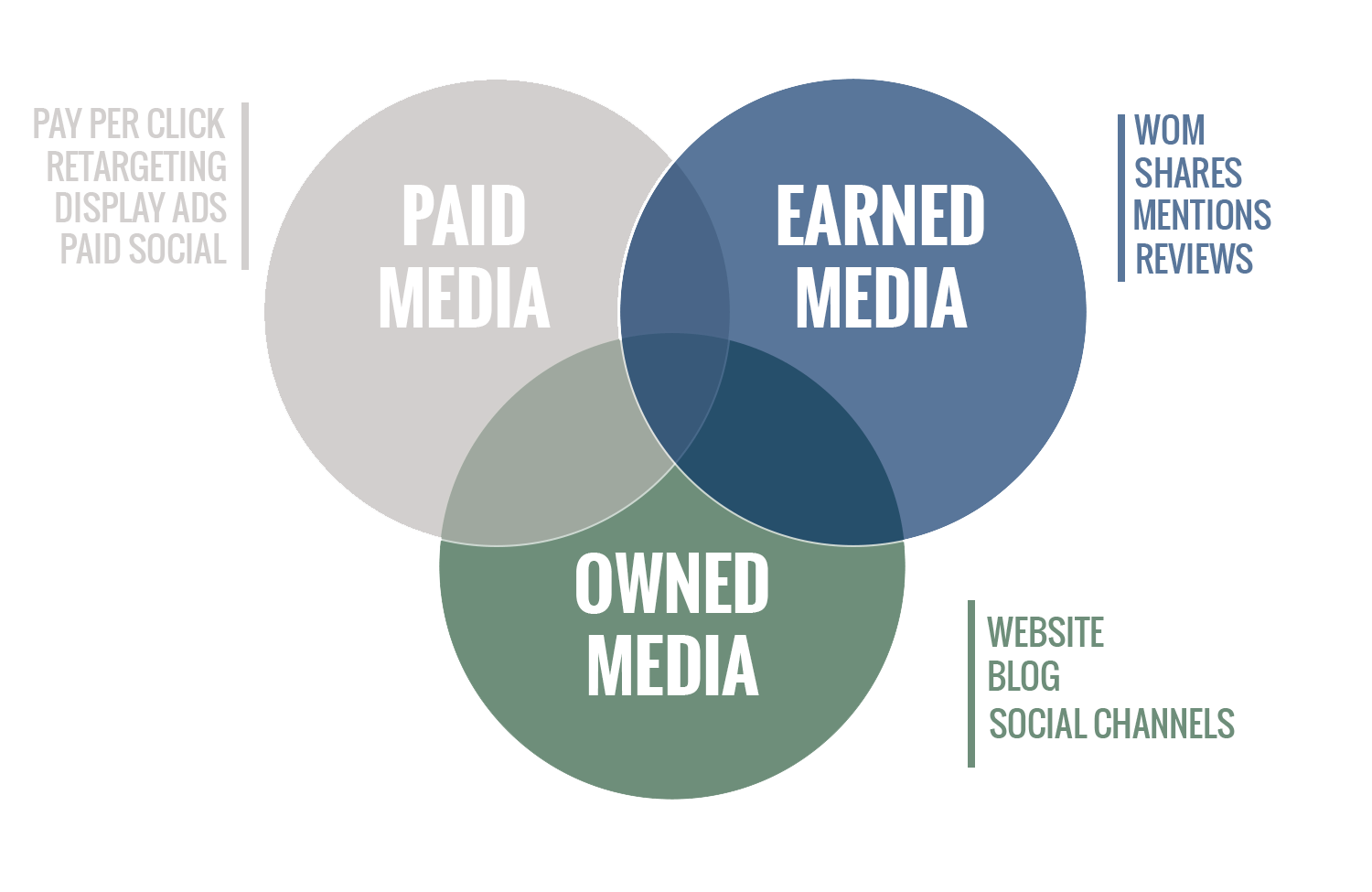 to prove the ROI of that investment.
Your website is no longer enough in the eyes of Google and the other search engines. Today, they pay attention to your overall digital footprint – the combination of all your online and offline marketing efforts. The key, then, is developing a seamless customer experience, concentrating primarily on the needs of your customers and uniting all advertising efforts toward the main goal of engaging the consumer online.
To create a compelling digital footprint, you need to understand media in four forms: Paid, Owned, Earned, and Shared Media
Paid Media
The major search engines and social networks were built on the premise of delivering information fast and free. Now, they are structured to deliver targeted paid ad returns. Google has dedicated the top half of the page to advertising on competitive searches and even social networks are full of sponsored and paid inclusion ads.
For marketers, paid placements are a necessary evil. They can push you to the top of the SERPs, generate mentions and engagement in social arenas, and drive engaged traffic to your site. What happens after the initial click to your site is then tracked in your analytics and used by Google as a barometer of whether you are achieving the goal of satisfying its users. If you are willing to invest in a keyword that drives clicks, engagement and conversion, you are more likely to receive organic benefits.
Paid media planning requires constant hands on the wheel. It's more than just bidding on keywords that generate clicks via text ads. A paid media strategy that converts is about remarketing, retargeting, personalization, demographics, interest groups and topics. Don't invest money without the proper strategy and optimization that we can deliver.
Earned Media
For marketers, social media must be part of every digital marketing budget and campaign. It is bigger than just Facebook and Twitter. Think of social media as online word-of-mouth marketing on a massive scale, allowing you to reach the huge audience present on the social platforms most applicable to your brand. Social media's benefits are far and wide, from generating clicks to a website to creating overall brand awareness. At NordicClick, we apply the following formula to social media strategy:
Content > Share > Traffic > Community > Brand > Interactions > SERPs > Conversions
Curate high quality and helpful content and share it across relevant social platforms. This, in turn, generates traffic to your site and begins to build an online community of customers and prospects and helps you establish brand awareness. This community creates the space for interaction with your consumer, boosting engagement and social churn. A highly engaging and relevant website can climb higher in the search engine results page, leading to more conversions. A digital marketing strategy is incomplete without a social media strategy.

Owned Media
Content marketing has been and continues to be the digital marketing buzzword, but it is far from a fleeting fad. Today, content geared towards the user rather than just the search engine is going to create more organic reach than ever before. With the advent of contextual and semantic search, it is clear search engine algorithms favor rich, helpful content. Now is the time to tell your brand story through your website, your digital assets (video, infographics, images, etc.), your blogs, and the aforementioned social media. Not only do your potential and current customers want to get answers from you, but they also want to genuinely like and relate to your brand. Give them that ability by creating content that is personal and relevant. A future-focused content marketing plan is the key to creating and maintaining the media you own.
Looking Forward…
When you take a look around your office, restaurants, schools, your house, etc., nearly everyone is on their smartphone. Especially millennials! In fact, the scales have tipped and mobile users have now surpassed desktop users. This growth will only continue. Marketers have to think mobile and multi-screen first when it comes to every channel of digital marketing. This means building mobile responsive websites, apps, and mobile targeted paid media campaigns.
If you plan your integrated digital marketing strategy now, you will be able to create an impressive Digital Footprint for your brand.