This Minnesotan was fortunate enough to catch a short winter break to attend and speak at the Pubcon South Florida Interactive Marketing Association (SFIMA) summit on February 24th & 25th in beautiful Ft. Lauderdale, Florida.
Below are just a handful of nuggets from the sessions. There were many, many compelling sessions and I obviously couldn't attend them all, but these are the best takeaways I received.
 How about some Dashboards!
Analytics was a popular topic at Pubcon (as usual). Jenny Halasz and Jarret Streiner each gave excellent presentations on the art and science of dashboards. A few of the more notable insights include:
Always avoid data overload. There's so much data available and it's your job to distill it down to a digestible level, so use simple charts instead of pages of data.
Always start here:
How did people get to your site?
What did they do while they were there?
How and why did they leave?
There are great resources out there for building dashboards. Check out  DashboardJunkie.com for some great templates to use.
Jenny even invited the audience to "steal one of her Google Analytics tricks":
Log into Google Analytics
Click Here
Select the account to apply it to
Storytelling
Katy Katz gave a fantastic presentation on the value of storytelling. Some bottom line insights that apply to marketers and storytelling include:
It's human nature to listen to stories
Storytelling helps you cut through the clutter and noise
Stories build memories which help people remember your brand
People don't buy "what you do", instead they buy "why you do it"
Personally, I can attest to the power of a good story. I show what I think is a compelling graph and no one will remember it. Tie the statistics in with a great story and it'll not only be remembered, but repeated.
Lots of Options for Tools
>Keyhole – Real time hashtag tracker for multiple social media platforms
TrueSocialMetrics – Measure real active engagement of users on social media pages
Try My UI – Site and user interface usability testing
Userlytics – Site and user interface usability testing
Usabilla – Usability and feedback for websites and apps
Validately – Site and user interface usability testing
Hotjar – All in one heatmaps, recordings, form analysis, polls, and surveys
Social Chorus – Tool to help firms promote and manage employee engagement
Key Insights & One Liners
"People fumble through analytics like teenagers in a parked car"
– Courtney Herda (@courtneyherda)
"Consumers are far more likely to make a purchase after a video"
"If you have any sort of manual action from Google (penalty), you did something to deserve it and should fix it"
– Marie Haynes (@marie_haynes)
– Rebecca Murtagh (@virtualmarketer)
"Your LinkedIn profile probably sucks"
Editors note: Checking mine now!
"We haven't decreased the amount of time on desktop, we just also use mobile – a lot!"
"Traffic Data is just an ego metric"
– Theresa Biacciocco (@teresabiacciocco)
"Stop doing 9/11 promotional tie in's……you IDIOTS!"
– Simon Heseltine (@simonheseltine)
"If you don't trust your employees to tweet, then you don't trust your employees."
– Scott Stratten (@unmarketing)
"Want to go viral? People spread emotion"
– Scott Stratten (@unmarketing)
"Stop trying to be FIRST!" Be RIGHT, first"
– Scott Stratten (@unmarketing)
"ROI can't be measured if you don't know where your investment went"
"Power of audience targeting: 2x CTRs, 1/2 CPCs, 2x conversion rates. One catch: volume is MUCH lower."
"My wife wanted cats. I didn't. So we compromised and got 3."
– Matt Siltala (@matt_siltala)
"If you have an article that goes viral, a high bounce rate is not necessarily bad because you got exposure."
Pubcon started trending on Twitter
It's no secret that the #Pubcon community is very active on social media. At about mid-day, it was fun to see it start to trend on Twitter!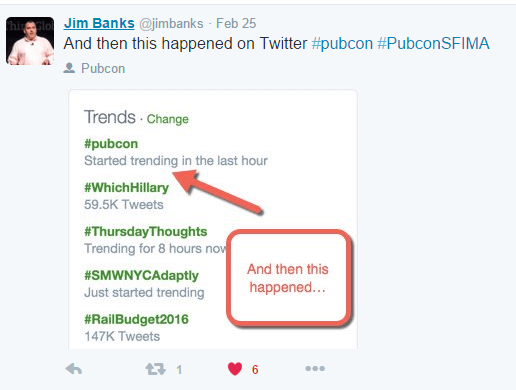 Of course, trending on social media also has comes with a price (namely unwanted attention from spammers).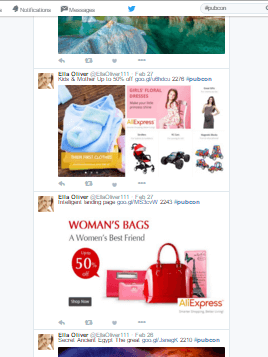 Epic Beards
Yes, there were beards. Epic beards. We're talking beards that would put ZZ Top to shame (and yes, I'm jealous – doubt I could grow one like that)!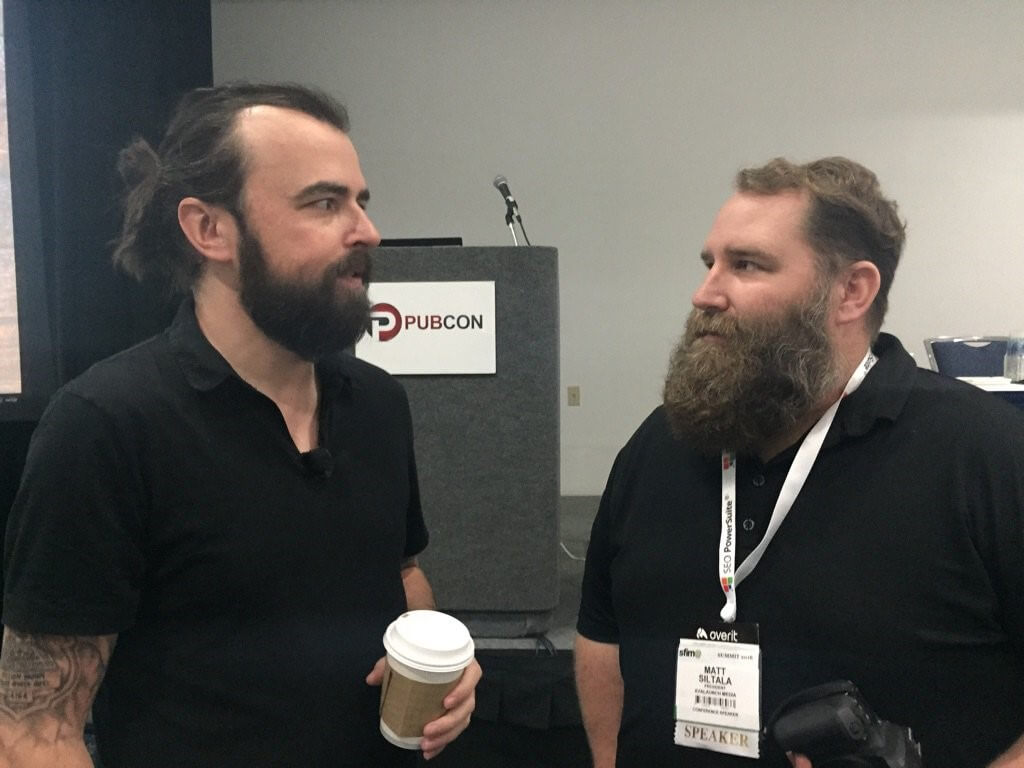 Left: Scott Stratten (@unmarketing)  Right: Matt Siltala (@matt_siltala)
Photo Credit: Melissa Fach (@seoaware)
Don't forget Dave Snyder in the epic beard department (@davesnyder)
Photo Credit: Doug Haslam
It should be noted that these guys all had beards before they became the "in" thing and will continue to have them after the trend passes.
That's a quick wrap. If you were at the conference, I'd love to hear some of your insights!