"Congratulations!! You're the 100,000th winner! You've won an iPhone 7, a free trip to the Bahamas and a brand new 2018 Ford Mustang!" Can you believe your luck?
You've likely seen these types of irrelevant pop-ups before when browsing the web. If you're like me, you tend to close out of them without even giving it a second thought. Of course, with the help of built-in pop-up blockers, nowadays we can limit the number of spam pop-ups we see. So why is it, then, that pop-ups are still used on websites? Aren't pop-ups irrelevant and ineffective?
Why Are Pop-Ups Used?
For years pop-ups have been a popular marketing tactic to grow email lists, boost blog subscribers and promote content for lead generation purposes. Pop-ups typically get a bad rap for being irrelevant, annoying and ineffective. However, studies have shown pop-ups can contribute to an increase in conversion rates if utilized effectively. Based on Sumo's statistics, on average pop-up implementation can be attributed to 3.1% of conversion rates.

Source: Sumo
Sounds nice, right? Any increase in conversions is a good thing, isn't it? The answer isn't quite that simple. There are a few more factors you'll want to consider before determining what's best for you. One big deciding factor comes directly from Google itself.
Starting back in January 2017, Google announced they were going to penalize websites using intrusive interstitials. In layman's terms, any page displaying content that is not easily accessible due to the use of an intrusive mobile pop-up may potentially see lower rankings in mobile search results. Wondering if this has any effect on your website? Try using the Interstitial Penalty Check tool to identify potential interstitials on your website.
When this penalty was announced, we recommended that our clients either err on the side of caution by removing mobile pop-ups altogether or simply refrain from using mobile pop-ups that spread over the entire mobile screen. (Note: Google still considers desktop intrusive pop-ups as an acceptable practice. This penalty only applies to mobile pop-ups.)
Thinking back on past website experiences, we can all agree we've seen our fair share of annoying and ineffective pop-ups. Not only can these be irritating to users, but pop-ups can also hurt a company's reputation by reflecting poorly on them. This raises the main question: how can we incorporate pop-ups without negatively affecting user experience? By approaching the concept of pop-ups with your users in mind, you can utilize them in an effective way.
How to Utilize Pop-Ups
Pop-ups don't have to be annoying if they are designed and utilized properly. Any type of pop-up should contain a clear purpose and provide value to users. The quality of your content heavily affects the outcome of any pop-up. HubSpot is a great example of how good content can positively influence and enhance the use of pop-ups. They use desktop slide-up pop-ups on select blog post pages to provide additional information and valuable resources to their users.
Example: As the user scrolls through the HubSpot blog post, the slide-up pop-up is triggered once the user reaches a certain point on the page. The slide-up doesn't cover any of the content and provides value by prompting users to click to download more information on the topic they are reading about.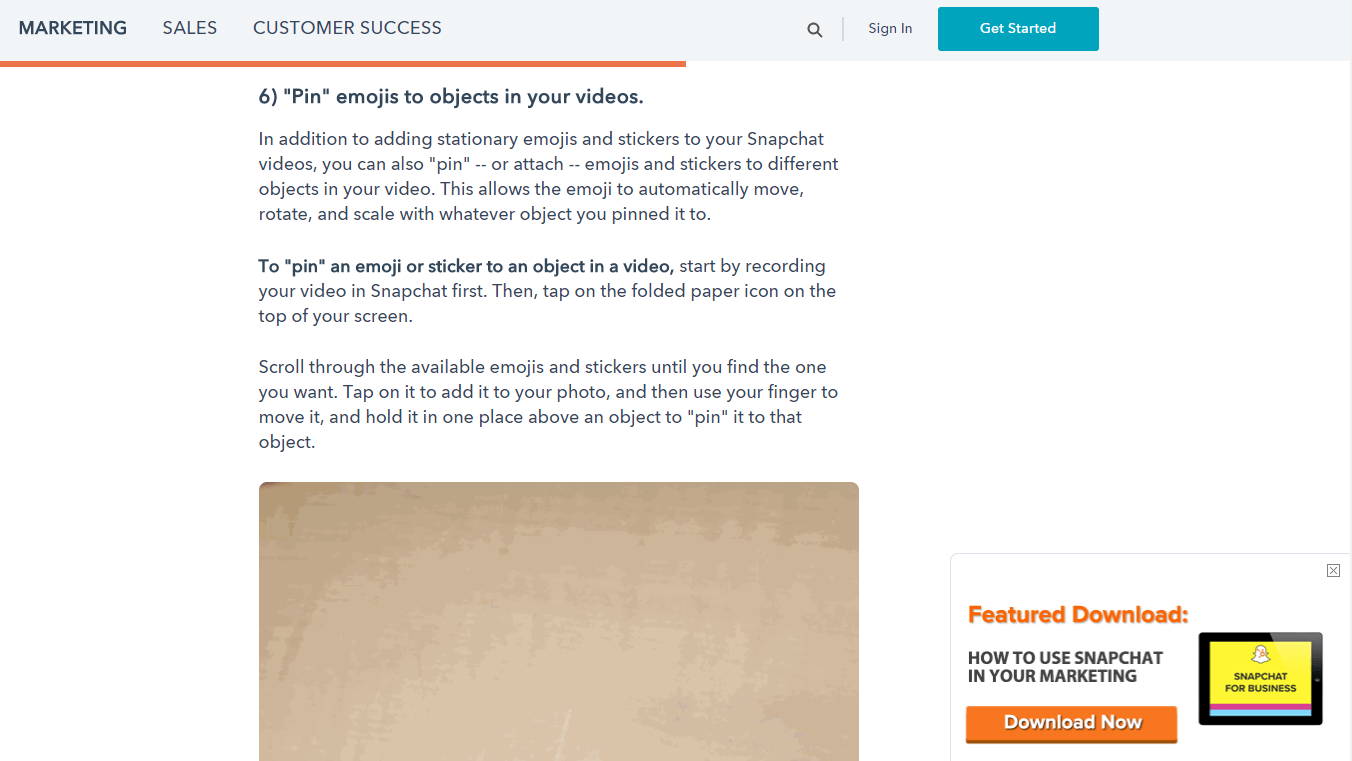 Pop-Up Tips and Tricks
Looking for a few pointers on how to design effective pop-ups? Follow these tips!
Display pop-ups at an appropriate time. Timing is everything. Allow users to interact with your website before triggering a pop-up. Best practices indicate that by using targeting rules and triggers, pop-ups can enhance the experience, rather than detract from it.
Use triggers or set targeting rules. Using triggers and targeting rules can help prompt a pop-up to appear. Some of the most common triggers include:

Time on page – If a user is on a page for a specific amount of time the pop-up will be triggered to appear.
Element interaction – A pop-up will appear once the user hovers or clicks on a particular element on the web page.
Page scrolling – Once a user scrolls to a certain point on a web page the pop-up is triggered to appear.
Exit intent – The pop-up is displayed when the user moves toward the top of the page indicating they are ready to leave the site.

Offer valuable and relevant content. It's not rocket science: a pop-up is more engaging to users when it offers content they find valuable. The purpose of pop-ups should always be to provide users with something relevant and beneficial.
Include a call-to-action. A compelling call-to-action (e.g. download the free guide) prompts users to take action and interact with the pop-up being displayed.
Optimize the mobile user experience. When incorporating pop-ups on a website, make sure to optimize it on desktop and mobile to make sure that the user's overall experience is positive on whichever device they choose.
Test, test, and test. Take the time to test the functionality and appearance of your pop-ups on multiple devices and browsers. If the pop-ups aren't enhancing the site, this may not be a valuable solution to use.
Should You Be Using Pop-Ups On Your Website?
The answer to this question depends entirely on the sole purpose and intended use of pop-ups. While pop-ups can help increase conversion rates, they can also affect a company's reputation if utilized poorly. For maximum effectiveness, you'll want to make sure to provide users with a clear call-to-action and valuable content. Also, make sure to take advantage of any triggers or targeted rules that you can use. Perhaps most importantly, spend time testing your pop-ups to determine their worth.
Pop-ups may not be a viable solution for everyone. It's important to weigh all of the pros and cons before determining what's best for you. Above all, remember to evaluate the user experience of your website and choose what yields the best results overall.
Did some questions for a developer pop up while you were reading? Check out our Web Design capabilities.