Over 100 million people tune into watch the Super Bowl each year.  For this reason alone we don't have to guess as to why an ad spot during this event is considered the Holy Grail for television advertisers. But why should we as digital marketers care? This type of advertising is only important to the creatives, right?
Think again!
Your audience can now be reached anytime and almost anywhere and that means via digital outlets (social, search, web, etc.).
To understand how this is done effectively, I have dissected the digital marketing efforts of one of the advertisers who was lucky enough to score one of these ad spots and put together a list of recommendations for digital marketers based on their successes.
Avocados from Mexico 2016 Super Bowl Campaign
Avocados from Mexico was able to grab a 60-second ad spot during the 1st quarter of the Super Bowl. If you don't recall, the ad showed a group of aliens touring what they called "Museum of Earthly Wonders" and end up discovering the wonder that is the avocado. The ad featured an appearance from celebrity, Scott Baio and in the end featured their logo and the hashtag, #AvosInSpace.
The main initiative of their campaign was to entice individuals to tweet an "exhibit" (a picture of what they considered an earthly wonder) with this hashtag for a chance to win a trip to Mexico and free avocados for a year.
My assumption is that the overall marketing objectives for this campaign were to increase brand awareness, increase following on social outlets, and overall-sales.
On February 8th (one day after airing) Simply Meaured's AdMeter reported that the hashtag, #AvosInSpace, captured nearly 50% of the Relative Share of Voice.
Share of Voice: the percentage of the digital space that a given advertising takes up
Share of voice #Twitter #SB50 @AvosfromMexico @GSDM @richardslerma #Avosinspace #admeter via @simplymeasured pic.twitter.com/UJ2WPSisPk

— Ivonne Kinser (@IvonneKinser) February 8, 2016
So how did they do this? Let's take a look.
Social
Pre-Game Conversation
Avocados from Mexico began mentioning their campaign theme approximately two weeks prior to the big game with the consistent use of the campaign's hashtag #AvosInSpace.
They produced video content and branding related to their Super Bowl commercial and promoted them via social media outlets. By doing this they were able to extend the storyline of the entire campaign and build hype for their 60 -econd ad spot during the big game.
You can check out some of these pre-airing initiatives on their Facebook and Twitter.
Game Time Interactions
Avocados from Mexico was present on Twitter during the entire game organizing game-day conversations, tweeting about the current plays, retweeting sweepstakes entrees, and even tweeting at other advertisers regarding their ads.
#Fumble, again?! Hang onto the ball like you'd hang on to a bowl of guac! #SB50 #AvosInSpace

— Avocados From Mexico (@AvosfromMexico) February 8, 2016
Post-Game Engagement
They continued the conversation after the commercial aired by retweeting sweepstake entries, asking for feedback, and by continuing to promote the sweepstake all with the campaign hashtag. By doing this they ensured they would gain full coverage until its completion.
Even the aliens agree. Vote now for our #SB50 ad. Click here: https://t.co/Tp0c3kCZgP #AvosInSpace pic.twitter.com/U9heyPphWn — Avocados From Mexico (@AvosfromMexico) February 8, 2016
Paid Search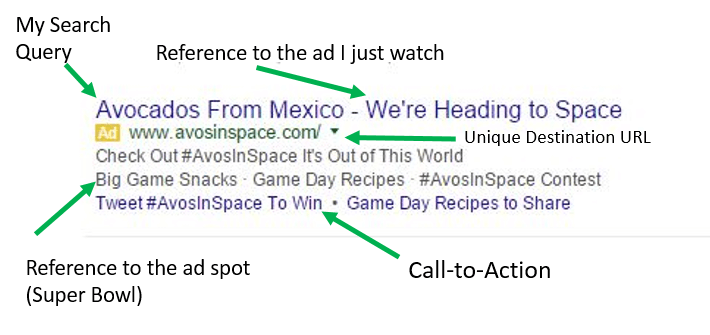 As part of the digital marketing campaign Avocados from Mexico also implemented paid search ads on Google.com. The paid search ad for Avocados from Mexico was tailored reflective of the situation I was in! They remained consistent keeping the campaign's theme at the center of the ad. They assumed based on when I was searching that I was watching the super bowl and integrated sitelinks and callouts that spoke towards the game, the sweepstakes, and their brand name. Lastly, they provided me with a call-to-action to Tweet using the hashtag #AvosInSpace to Win, again remaining consistent with their overall campaign initiative.
The ad headline and sitelinks both brought individuals to a Super Bowl specific landing pages on the domain AvosInSpace.com, a different domain from their main domain. The landing pages offered site visitors to partake in their sweepstakes by uploading, taking, or tagging a picture with the hashtag.
Search Engine Optimization
They also leverage search through SEO by indexing this super bowl campaign specific domain.
The domain was mobile friendly which, given the circumstances surrounding the campaign, was essential to the overall effectiveness.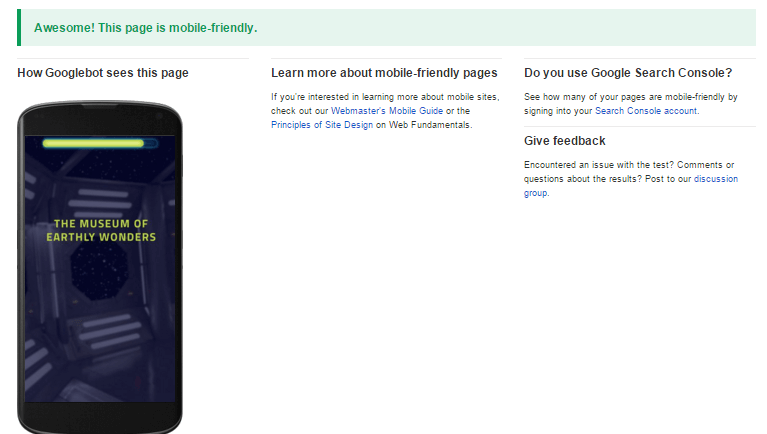 Below is a screen shot of the organic listing that appeared in position one when searching the campaign headline. Metadata was optimized appropriately again remaining consistent with their overall campaign theme.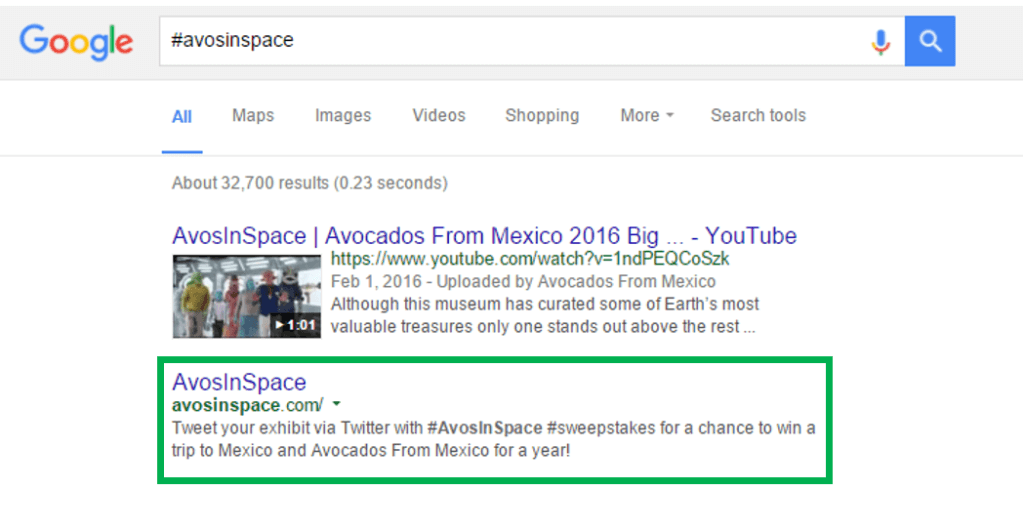 Monitoring Interactions
Google Analytics is successfully installed on this domain. We assume because of this they are tracking metrics and on-site behavior based on sessions to this domain and creating actionable insight for future campaigns.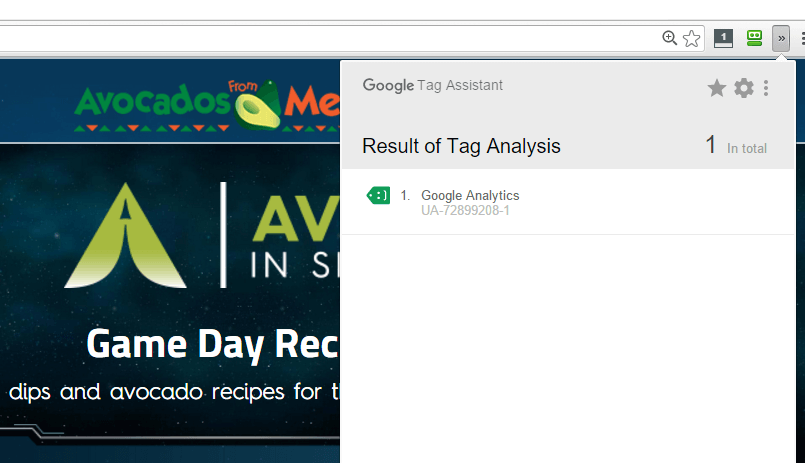 What can we learn from this?
Engage in Conversations.  Use social networks to interact with your target audience before, during and after marketing campaigns. This is essential to telling the story you want to put forth.
Keep Branding Consistent. Ensure the branding seen in one medium matches the branding in another to keep a consistent message across all possible touch-points (i.e. updating paid search ad and organic listings to match the messages put out via social, updated main domain/creating specific campaign domains, etc.).
Monitor and Analyze Performance. Understand what went well and what could have been improved upon and use the takeaways to create an even better campaign in the future.
Not only did they Avocados from Mexico receive 50% of the Share of Voice but they are now up approximately 10% in twitter followers, their hashtag #AvosInSpace has been used in over 110,000 tweets, retweets and responses, and their commercial has over 3 million views on YouTube. Overall, well done Avocados from Mexico!
Ready to dominate digital, too? We could make a great team… Check out our Paid Media capabilities.