For Amazon sellers, Sponsored Products advertising is one of the most influential ways to drive incremental sales and discoverability. As the marketplace continues to grow, it is a necessity to continually fine-tune your approach to Sponsored Products to ensure your business remains in top position among your competitors. More importantly, having the knowledge, resources and technology to optimize and manage ad performance is key to sustaining long-term profitability.
Of course, the list of organic search results in Amazon can be endless, and being listed on the first page is far from guaranteed. Sponsored Products give your products the fighting chance they need to be seen, regardless of where they rank organically.
Pro-Tip: Amazon displays your Sponsored Products based on relevancy, bid level, and sales history.
With the holiday season approaching, we put together the following best practices to help sellers maximize performance with Sponsored Products to ensure you get the most out of your Q4 sales.
1. Analyze Product Data & Measure Success
Don't "set and forget" your campaigns. Analyzing the product data and campaign performance monthly (if not weekly) is so important to improving your seller performance and maximizing the value that can be gained from Sponsored Products advertising.
Multiple Advertising Reports exist in Amazon that allow you to pull useful data such as: Performance by SKU, Performance by Placement, Search Term Report, Estimated Page 1 Bid, Other ASIN Report and the main Campaign Performance Report. We highly recommend reviewing all of this data monthly in order to discover key opportunities and improve your campaign performance. Additionally, you can use the data to build your own personal reports to benchmark product and campaign performance.
2. Monitor Search Term Report

The Search Term Report provides visibility into the actual search terms entered by customers searching on Amazon.com and the impressions, clicks and conversion data for your ads. The report pulls search terms that generated at least 1 click from your ads.
This report is extremely beneficial to improving your campaigns because it opens your eyes to keyword opportunities you may not have thought of that apply to your relevant campaigns. The Search Term Report is also one of the main reasons you will want to run an "Automatic Campaign," as you get to see the search terms Amazon triggers your ads to show for and finds relevant to your products, which brings up even more new keyword opportunities. Lastly, you will be able to see what terms are irrelevant to your products. If a common keyword keeps showing in your search term reports, but isn't resulting in conversions, it is increasing your ACoS (advertising cost of sales). You should then add this search term as a negative keyword.
3. Bid Refinements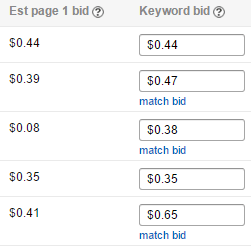 We recommend starting your keyword bids at a level of $0.15 – $0.30 to give all your products a chance to perform well. There will be some product and category variation depending on which department you are advertising in.
Once the campaigns have been running for 1-3 months, you can determine which products and keywords are performing well and deserve a higher bid versus which products and keywords are not performing well. According to CPC Strategy, you may want to run:
High bids on strong performing products: $0.50 to $1.25
Medium bids on average performing products: $0.15 to $0.50
Low bids on poor performing products: $0.02 to $0.15
Check and adjust your keyword bids weekly. Performance will likely fluctuate, so you want to ensure your maximum bid is always set to beat out the competition and show on the first page of search results.
4. Run Both Automatic and Manual Campaigns
Automatic Campaigns are simple to set up and the best part is Amazon does all the work for you! You simply name the campaign, set the budget, determine the start and end dates, and select the Automatic Targeting option. You will also need to name ad groups, set bids, and select the product SKUs to advertise. Amazon automatically displays your ads when all relevant customer search keywords are searched. To determine ad relevancy, Amazon looks at your product listing content, so make sure any and all relevant keywords you have are in the title, product description, bullet points and back end information.
The process for setting up Manual Campaigns is similar. You name the campaigns and ad groups, set bids and budgets, and establish durations. The main difference between the two campaign types is targeting; Manual Campaign targeting is based solely on the keywords you set. Just like the PPC model, your ads will show at the top and bottom of the SERP and on product detail page carousels when shoppers search for keywords you're bidding on.
One mistake we've seen many sellers make is to run Automatic Campaigns for 1 – 3 months to harvest the data, and then transition to Manual Campaigns and pause the Automatic Campaigns. Although transitioning the data to the Manual Campaign is an important step to refine the campaign, we do not recommend pausing your Automatic Campaigns when you do. Instead, these campaigns should work in conjunction with one another. Think of your Automatic Campaign as an investment in valuable data; it continues to show you the keywords Amazon finds relevant to your ads to use to optimize your Manual Campaign. Plus, you'll continue to gain sales!
Amazon Sponsored Products boost your organic ranking, ensure your product visibility and give you the competitive edge you need in the marketplace. Use these tips to continue to optimize your campaigns and you will stay on top. Happy selling!
Looking to take your online retail business to the next level? Take a look at our Ecommerce capabilities.