Two of the best ways to grow your organic traffic are to gain visibility for new keywords and to increase your position for existing keywords. To do this, you need to understand the competitive landscape on search results pages.
You can look to competitor sites to glean valuable insights and ideas that can help you expand your organic reach. I'm not suggesting you should copy your competitors; rather, look at what they are doing and then beat them at their own game. Time and time again, Google says to "provide valuable content" and "provide a great user experience." If you want the win, you need to take their ideas and then do it BETTER than they do.
1. Find Synonyms and Related Terms
One of my favorite things about competitive analysis is finding quick wins that get results without doing a lot of work. By looking at organic keyword traffic of competitors, you can see where they rank and you aren't showing up. Or, you can see where they are outranking you, and then work to make your page stronger.
For example, if you are an online retailer who sells shirts, and you are already ranking #1 for "blue shirts," you might think you have the blue shirt game won. However, by researching your competition, you can find synonyms and terms related to "blue shirts" that you hadn't thought of using. Your competitors might use other terms like "navy shirts," for example. You also have navy shirts, but since you haven't used the word "navy" on your blue shirts page, your visibility isn't great for that term. By simply adding the term "navy" to your existing page copy, you could expand your search visibility.
2. Increase Your Offering
Want to increase your average order value and customer lifetime value? Find potential high-demand products that your competitors offer and add them to your mix. Give your customers such a great selection that they won't feel the need to go anywhere else.
Let's say you have a garden supply website where you sell seeds, tools, fertilizer, and weed control products. You're doing great selling those products, but you want to know what else your customers want. A competitive analysis shows that several competitors have a large percentage of traffic coming in on clothing-related keywords. You can win bigger sales by adding gardening gloves, gardening boots, and sun hats to your store.
3. Make A New Page for Top of Funnel Searches
Top of funnel content is a great way to expand brand awareness and reach potential customers before they are ready to make a purchase.
Let's say you're a retailer that sells home improvement products, and you want to sell more paint and tools like paint brushes, rollers and drop cloths. A competitive analysis shows your competitor has organic traffic coming in for terms like "room painting ideas." Since you have already been collecting great customer photos to use for social media, you can set up a gallery page using your customer-submitted images and add short descriptions to each image. This kind of user generated content is relatively easy to create and can give you multiple wins.
If your page is stronger than your competitor's, you can outrank them and grab the number one organic listing on Google.
You might even find your top of funnel content showing up in a Google Featured Snippet.
If you've done your image optimization properly, you should also see improved visibility on Google Images.
Use this page on social media as the content is highly shareable. You might even get some links back to your site, which helps improve your rankings!
That's four great wins from creating one relatively easy page!
4. Answer Questions
To win the sale, you must provide great customer service. Answering commonly asked questions is a basic part of great customer service and should be an integral part of your website strategy.
Using the paint example from above, the competitive analysis shows high organic traffic for "what colors make a room look larger" to one of your competitors. When you check the Google search results, you see that competitor has the highly-coveted Answer Box. Sure, you can create content that answers that same question, but you can do so much more.
Look at the other questions in the answer box and create a page that answers multiple, related questions. Talk about lighting, furniture placement, different kinds of rooms like bedrooms or bathrooms, minimalization, and window coverings in addition to paint. Use images, charts, and videos to demonstrate your points to make your page stronger.

But don't stop there! Look at the related searches at the bottom of search results. Those are answer boxes just waiting to happen! Answer those before anyone else does and your odds of getting an answer box will increase.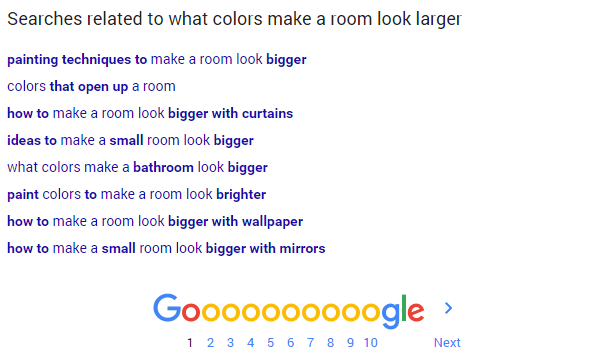 As you can see, there is much to be learned from the competition. Try the above four ways to maximize your organic traffic potential and be a more relevant choice in search.
Is your site optimized for search? We can help. Take a look at our SEO capabilities.