As someone whose greatest weakness is organization, I love post-it notes. If it weren't for those 3X3 canary yellow slips of paper covering my laptop, I doubt I could get through the day without forgetting something. The label feature in AdWords is, to me, much like a digital post-it that can be used for a variety of organizational purposes. So, without further ado, here are three ways labels make my life easier.
How to Create a Label in AdWords
Before we dive into what I love about labels, let's learn how to create one. Creating a label is quite simple. They can be fashioned and added at the campaign, ad group, ad, or keyword level. To create a label, all you need to do is follow three easy steps:
Check the box next to the campaign, ad group, ad or keyword you would like to label.
Click the Labels drop-down and find Create New.
Enter the label name you want to use. And just like that, your new label is ready to use.

Now let's put those labels to work.
Schedule Sales or Events
Ladies and gentlemen, the holidays are upon us once again. With this season come sales galore and plenty of major yet temporary account changes. Wouldn't life be so much easier if we could silo sale-related campaigns, ad groups, and ads? We could filter and analyze sales by label, and even schedule the sale to start and end at a defined time using automated rules. To answer my own question, yes, it would be great, and indeed possible!
Labels allow you to easily identify and segment your sales from the rest of your account to manage them on a more granular level. Here's an example.
Let's say your client has sales every other week covering a variety of products. If you were to try to launch each sale and evaluate performance manually, the task could be much more time-consuming than with the use of labels. For the sake of this example, your client is having a storewide 30% off sale. You want to use existing ad groups, but you need to write new sale ads. Once the ads are written and added in the existing ad groups, you can create and apply a label to all 30% off sale ads.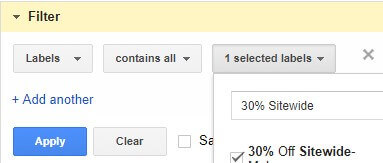 Now, to schedule a start and end date for the sale or to evaluate the performance of the sale, I can easily filter at the ad level by label. It's almost like magic.
Turn Seasonal Accounts Into a Well-Oiled Machine
As an extension of the point made above, labels provide an effortless way to schedule automatic starts and stops for campaigns, ad groups, or ads. Especially with clients whose campaigns and products change quite literally with the seasons, using labels is a lifesaver.
Let's walk through how easy this can be – and brace yourself to be amazed. Let's say my client is Sam's Seasonal Service, or Triple S for short (I know, it's a quality name for a fictional company). Sam's main business involves cleaning up leaves in the fall, mowing lawns in the summer, and shoveling snow in the winter.
With this kind of seasonal variation in services, some level of organization is essential. So, let's assume I create the best damn campaigns you have ever seen for each one of these services. I then create my Winter, Summer, and Fall labels and apply them to their respective campaigns. Now, these campaigns can be automated to turn on and shut off within their season – and all I have to do is monitor and optimize!
Keep Track of Keywords/Account Changes
We as digital marketers must always be curious and constantly willing to try new things. Finding more efficient ways of meeting our clients KPIs is the best way to keep everyone happy. Because of that, we are continuously trying new keywords, ad copy variations, bidding strategies, and so on. But with so many factors in play, it is easy to space on things being tested or recent changes made. A wonderful way to keep track of this is (you guessed it) by using labels.
Recently I used this concept to keep track of some keywords that were costing too much per click. I wanted to run the keywords to gather more data, but these astronomical CPCs required constant attention. I couldn't afford to lose track of these. To help me remember, I used my dearest digital friend, the label.
All I had to do was apply a "High CPC" label to the keywords I wanted to keep tabs on. Now, when I want to evaluate how these keywords are performing, I filter by that label and the data is displayed neatly for me to review. And when I'm revising my keywords, I also have the visual cue showing which ones I wanted to keep an eye on.
Conclusion
Labels, like post-it notes, are a lifesaver when it comes to organizing accounts and keeping track of things. Especially in accounts with many moving pieces, labels are a way to keep tabs. In this blog, I laid out three ways I like to use them, but rest assured there are hundreds of ways to take full advantage of all labels have to offer a PPC manager.
Need a hand with PPC? We've been at it since the beginning. Check out our PPC capabilities.