It has been a crazy year and a half for AdWords users with all of the new Google features and functionality being introduced to the platform.
Unless you have been operating in a self-imposed SEM news blackout, you have no doubt heard about one of Google's latest ad formats: responsive ads. While any new addition to the AdWords arsenal is exciting, there is always a learning curve for advertisers. Lucky for you, we have firsthand experience with responsive ads, including some of the more subtle quirks that come along with them.
What Makes an Ad Responsive?
First, let's start with a little refresher on what responsive ads are, courtesy of Google's own definition:
"Responsive ads automatically adjust their size, appearance, and format to fit just about any available ad space"
Basically, you create an ad with an image, logo, headline and description, and Google will automatically format and shape it to virtually any ad size in order to show your ad on more websites.
You might be saying, "That sounds great! I can create one ad that changes based on the ad window itself rather than manually create multiple sizes. What's the catch?!"
Well, let's talk about that.
1. Standard Text Ads No Longer Exist on Display
Google made the announcement that starting January 31st, 2017, advertisers will no longer be able to create or edit standard text ads because they were phased out for the new responsive format. What Google didn't explicitly state is that those standard text ads are automatically being converted into responsive ads.
The catch is unless you manually click on the Edit icon next to a standard text ad, you would never know it was changed – and the responsive ad it was changed to might be, well… less than ideal: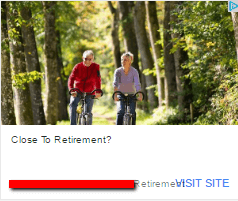 As you can see from this example when standard text ads show as responsive image ads, some issues may arise:
Ad descriptions do not automatically populate
The image of the ad is not always relevant since it is automatically scanned from the site (we have also seen instances of stock imagery used)
The Display URL overlaps with the button
The best way to combat this issue is to pause your standard text ads and create customized responsive ads with your own imagery and specific ad copy. If you simply edit your standard text ads, be aware that you will be deleting that ad's historical data, meaning you'll want to change your ad rotation settings to rotate evenly for 90 days. Google has stated that it takes around 2 or 3 weeks for responsive ads to have enough data to get back to "normal levels."
2. Review Your Placements
The whole point of responsive ads is that they format themselves automatically to fit in an ad window, but that does not necessarily mean the placements you get are a good fit for your ads (no pun intended).
As with any Display campaign, if you are using automatic placements, you'll want to review the sites you are showing up on for relevancy, performance, etc. However, if you are using managed placements, you might want to take a look at how the responsive format affects performance.
For example, we have seen evidence that suggests that our managed placements that were historically high performers are not as in tune with responsive ads as we would like to see. While the ads themselves have fairly similar content to the standard ads we used to feature, the way they are rendered on the sites may have changed. For instance, some of the new responsive formats are animated, meaning that if a user does not scroll past it at the right time, they may only see part of the ad.
3. Don't Be Afraid to Test New Ideas
If you aren't seeing consistent performance levels with responsive ad formats, try testing out different campaign structures or ad copy and imagery.
One test we created utilized the AdWords Ad Gallery – a tool that was all the rage back when it launched but seems to have fallen off the radar. The Ad Gallery allows you to create responsive ads in various layout templates, letting you customize your ad down to the color of the border and button. This means you can create responsive ads that are more in line with your client's branding.
We also reached out to Pauline Jakober after reading her article, "What happens when Google pushes into branding and messaging?" to ask her about her experience with responsive ad formats.
Pauline proposed testing a Display campaign structure that features an ad group designated to image ads and an ad group specifically used for responsive ads. The hypothesis is that by adding image ads into their own ad group and bidding higher on them you can "force" Google to prefer the image ads over the responsive ads.
We just launched our own test, so we don't have enough data to measure its effectiveness yet, but we are excited to see what happens.
What Now?
Whenever Google announces a new ad format there are bound to be some growing pains, so it is important to test out new ideas and review performance metrics so you know what works and what doesn't. If you have not manually ported your standard text ads to the new responsive format, be sure to check on them for any missing information. If responsive ads aren't performing the way you want them to be, look at your placements, or change up your ad copy.
Trying to drive awareness with display? Check out our Display Advertising capabilities to see how we can help.