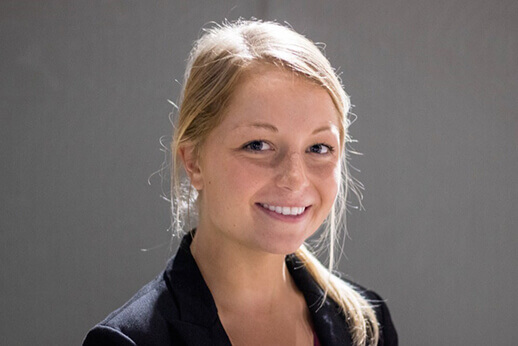 Luci Bessinger – Digital Marketing Intern
Luci currently works on off-site projects for NordicClick while studying at Iowa State University. Some of these projects include writing copy for clients' paid search campaigns and designing the 2018 Retail Benchmark Study. As an intern, she learned the ins-and-outs of paid search, ecommerce site auditing, and digital marketing research.
Within her college experience, Luci found she loves projects that stem from hard data. This interest drew her to intern at NordicClick last summer. This opportunity enhanced her passion for online marketing and measurable campaigns.
As a senior at Iowa State University, Luci actively participates in Advertising Club on campus and is a member of Kappa Kappa Gamma Fraternity. She's also a Peer Advisor for the Study Abroad Office, where she helps students determine their travel and educational goals.
In her free time, Luci loves adventuring and traveling. Last spring, she spent the semester in Barcelona, Spain, studying Spanish and culture. She also likes to go boating with friends!
1. What is your first memory of the Internet?
My first memory of the internet was hearing about how my sister made a MySpace account. I then HAD to get an AIM...
2. Favorite memory of the lake? What does being on the water mean to you?
I love being on the water and by the water. I don't have my own cabin, but practically spend all weekends at friends' cabins. The lake is always a time to relax and spend time with my friends. 🙂
3. How many cups of coffee do you drink per day?
I actually do not drink coffee (I know this is shocking)... I'm sure this will change soon...
4. Most used app on your phone?
The most used app on my phone is Instagram! It is always changing and keeps me in the loop with food and fashion trends.
5. Snack you could live on?
I could easily live on Tostitos Medium Queso. My absolute favorite snack (meal) of all time. 🙂
6. What band/artist would you pay $30K to have play in your living room?
I would probably pay more than $30k for the Lumineers to play live in my living room... my dream experience.
7. Favorite travel location?
My favorite travel location is Florence, Italy. I am a big fan of food in general, so Italy obviously wins this question.